[Answer ID: 13798]
About Power Mode Switch of CloudStation (CS-WX, CS-WV series only)
Created 11/21/2011 01:33 | Updated 03/08/2012 08:12
The "Power Mode" switch on the back of the unit has three positions: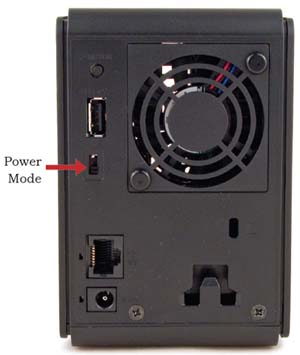 Auto positioin


The Auto position automatically powers the unit on or off with your PC. If your PC is turned on the CloudStation will power up; if the PC is turned off the CloudStation will power down.
You must have installed the NAS Navigator software (available in each website of each region http://www.buffalotech.com/select-your-region) on your PC for this feature to work.

Otherwise, if you move the switch to Auto, your unit will power down by itself and you will have to manually turn it back on.



On position (middle)


Move the switch to the

On

(middle) position to have the CloudStor turn on and stay on.



Off position


To turn off the CloudStation, move the switch to the

Off

position. It will take several minutes to fully shut down. 

Do not unplug the unit until shutdown is complete and the power LED is no longer lit

.

Please tell us how we can make this answer more useful.