[Answer ID: 14436]
How can I setup Network Camera with Buffalo router for external/remote access & control from Internet ?
Created 07/05/2012 06:37 | Updated 09/07/2012 07:36
To setup Buffalo routers to remotely access any generic IP Camera or Network Camera from internet, follow the instructions bellow.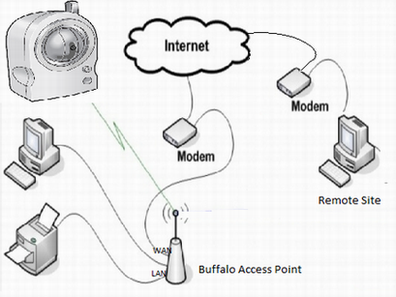 The setup procedure outlined bellow can be applied to any generic Network Camera .
First decide if you want to setup a wired or wireless connection between the Camera and Access Point.
If you plan to connect the Camera using wireless connection, than record the Access Point's Wireless SSID and encryption key.
you may skip the following if the camera is connected by Ethernet cable to LAN port.
■ 1 -Refer to label on the side of the unit.

The initial (factory reset) values of SSID and Encryption key are printed on the label.

for example, the label on WZR-HP-AG300H is shown bellow: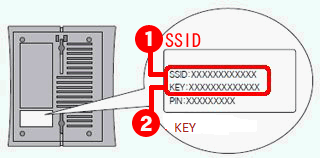 After this setup is complete, we will have the following :
Camera's IP address is changed to static IP 192.168.11.112  .
Subnet mask is standard class C: 255.255.255.0
Default Gateway is default for a Buffalo router: 192.168.11.1
Camera has been placed on port

50000

.
Refer to camera manuals and determine the following:
A- initial or default IP to access camera setup page .
B- the Administrator User name and password.
C- camera's default video stream network port number .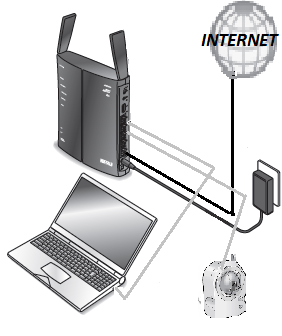 2-1 - Depending on the camera, you may not need to connect to the router to do initial Camera setup.
Connect the setup PC to IP camera and set setup PC to static IP address. The IP should be in same segment as IP camera's default IP.
For example, our camera has an initial IP address is 192.168.0.253 . We set the Setup PC's IP to Static 192.168.0.200
2-2 Optional, enter wireless parameters SSID and encryption key, if you plan to use wireless connection.
2-3  Re-assign the camera a static IP address on the same segment as Buffalo router LAN IP address. The default IP address of Buffalo router is 192.168.11.1.
set camera IP to  any address out side the dhcp address pool for example 192.168.11.112. Set the Subnet Mask 225.225 .225.0 and default Gateway IP address 192.168.11.1 same as router's LAN IP address.
 For Example , see bellow.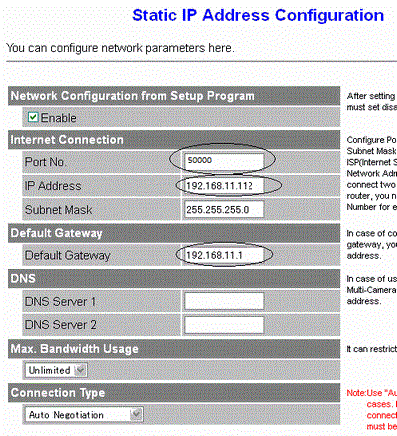 Set the video stream Port number (in example it is 50000).
If the camera supports UPNP enable it.
Enable UPnP on router if it is disabled.
If the camera supports UPnP port 5000 video stream should be accessible. The router does not require any additional setup.
Now you can access the video stream from internet:
enter http://IP:Port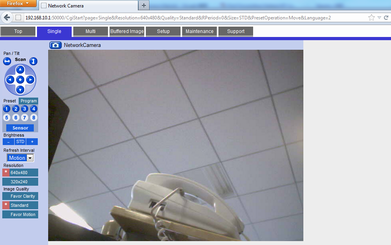 ■ 3 - Router additional Setup - Port Forwarding
If the camera supports UPnP you may skip this section.
If the camera does not support UPnP, you may manually setup the "port forwarding" feature to configure internet access to the video stream.
As shown bellow , assign a port on internet side (for example 8080) and specify camera IP and port on LAN side.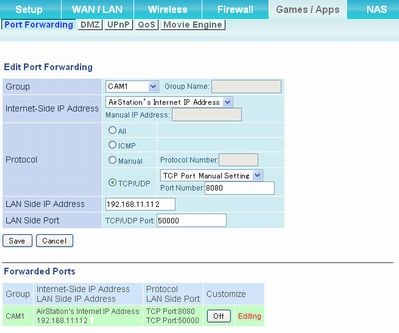 Enter http://mydomain:8080 to access the video stream
Please tell us how we can make this answer more useful.