[Answer ID: 14445]
How to: Connect my Smart Phone to Internet.
Created 07/09/2012 08:38 | Updated 09/04/2013 02:29
1- Start by recording your Access Point or Router's Wireless  profile: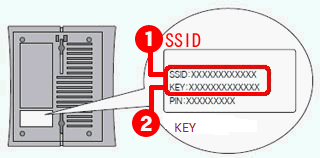 A) SSID  B) Encryption Key and C) WPS PIN .
The default settings are printed on the tag attached to the unit.  
2- if you are using Samsung Galaxy S, navigating to the Wireless & networks menu to access WiFi Menu
3- Select Wi-Fi settings Choose a listed network
4- Choose the SSID from step 1 listed in networks
5- you'll be prompted to enter encryption key, enter key from step 1 .
Please tell us how we can make this answer more useful.