[Answer ID: 14478]
How to : Manually setup WLI-H4-D1300 Wireless connection to any other wireless router .
Created 07/25/2012 06:41 | Updated 09/06/2012 01:29
WLI-H4-D1300 AirStation is an AC1300 / N450 4-Port Gigabit Dual Band Wireless Ethernet Bridge.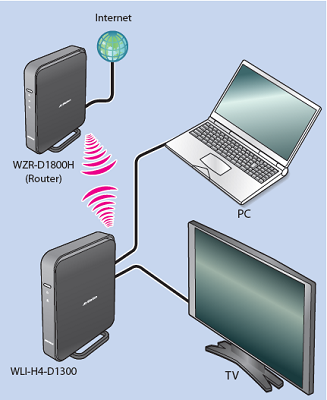 Default IP address is 1.1.1.1
Default User Name : admin
Default Password : password


To connect WLI-H4-D1300 to any other router, start by recording your existing router's wireless profile: SSID, Authentication Method , Encryption Method and Encryption Key.


I

f your router is WZR-D1800H, refer to Administrator's card for details.

Turn on WLI-H4-D1300 power. Look for the push button power switch on the back of the unit.




Set setup PC's wired network IP address to address to 1.1.1.2.

On Windows 7 :

A) Click [Stat] - [Control Panel"], then view "Network status and tasks".




B) "Change Adapter Settings"




C) Right Click the adapter and choose "Properties".




D) Select TCP/IP internet protocol and set IP address to static IP address to 1.1.1.2.




Connect Ethernet cable to PC's wired interface and WLI-H4-D1300 LAN port.
Launch browser to 1.1.1.1 and Login.

Default User Name : admin
Default Password : password


Go to [Wireless Config] - [Basic] and click search button to list SSIDs of available wireless routers.




Click on option to select Wireless router's SSID from step 1. Next, click Select button.




Enter Wireless router's connection profile (Authentication, Encryption, and Key) from step 1.





To confirm Wireless connection is established, navigate to Diagnostics | "System Info" tab and look for Wireless Information SSID , Channel and Status is indicated and present. If not present, push the refresh button .

If there is no wireless status indicated, repeat wireless search (start from step 5).
9- Optionally, set WLI-H4-D1300 IP address within same network segment as router LAN address. Choose an address that is outside the DHCP address pool to avoid duplicate IP.

(For example : 192.168.11.111)
Finally, make sure to put setup PC's adapter back to obtain IP address automatically (from step 3) .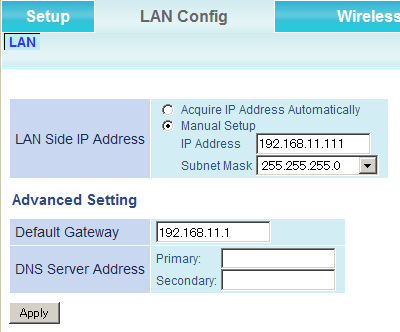 Please tell us how we can make this answer more useful.