[Answer ID: 14588]
How to: Backup and restore your router settings or configuration (User Friendly Firmware)
Created 08/02/2012 07:19 | Updated 09/19/2012 04:22
1- To backup your router settings, go to "Admin Config" tab .
2- Click save to store router configuration to a file on your hard disk.
You may, check the Encrypt option box if you want the file to be protected. If you check the encryption option, you will be prompted to enter a password for the file encrption. if Encrypt option box is set, the password will be required to restore the settings.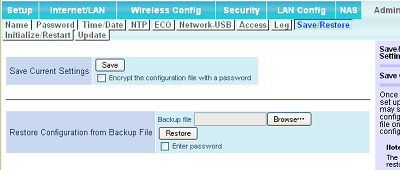 To restore the settings:
1- Click browse button and select the file from hard disk.
2- if you had Encryption option checked when you stored the file , check enter password box and enter the password . Click Restore button to resore configuration.
Please tell us how we can make this answer more useful.