[Answer ID: 14918]
How to change the login password for your CloudStation?
Created 01/17/2013 04:32 | Updated 11/07/2013 02:03
Follow the procedure below to change the password for the local UI.
1.

Open a browser and go to http://cloudstation.pogoplug.com/ to access your CloudStation.

2.

Enter your email address and password that you registered during setup, then click [Log In].

3.

Click [Settings].

4.

Click [Device Settings] - [Manage].

5.

Click [Password], enter a new password (twice), and click [Apply].
This completes the changing of the password.
Now, you can access the local UI with new password.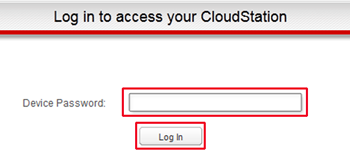 Please tell us how we can make this answer more useful.