[Answer ID: 14952]
How to Get Around the "App Can't be opened because..." Error in OS X
Created 01/08/2013 05:02 | Updated 09/27/2013 08:18
Depending on OS X (starting with Mountain Lion and OS X Lion v10.7.5) Gatekeeper (security settings), when you try to open or download an application software from Buffalo Technology website www.buffalotech.com, you may get an alert message such as below to protect your Mac against malware.
"App name" can't be opened because it was not downloaded from the Mac App Store
or
"App name" can't be opened because it is from an unidentified developer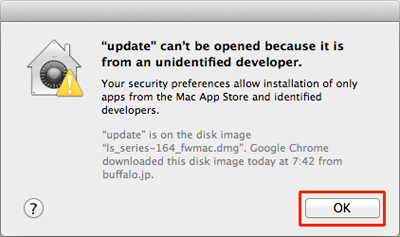 Note:
An alert message may not be displayed depending on your security settings.
To work around the alert message
1.

Right-click or click the app while holding down the control key, then click [Open].

2.

Click [Open] at the next dialog warning.

3.

Follow the instruction on the screen.
Please tell us how we can make this answer more useful.